Spreadable Ideas is a not for profit established to spread ideas in South East Melbourne and beyond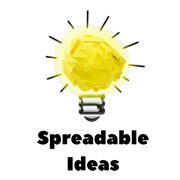 ABOUT Spreadable Ideas
Spreadable Ideas started with TEDxCasey in 2019 and then

... it spread!
Our Team
Our management team is made up of volunteers who are passionate about the potential for good ideas to change the world, for the better.
Founding team LinkedInLocal Casey, Curator TEDxCasey and Spreadable Ideas volunteer
Our Brands
Spreadable Ideas are custodians of strong brands through the work of our team.